Nutritional Design: Getting the weaning stage right is a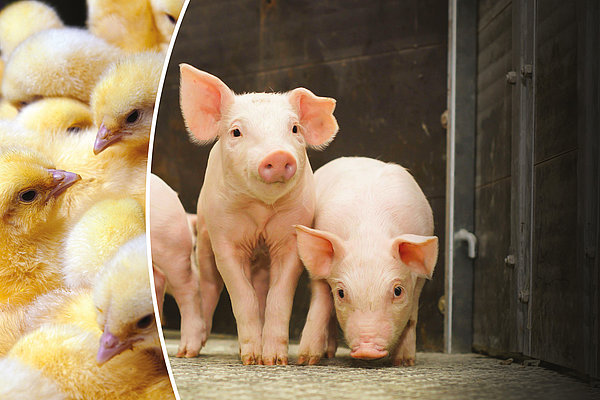 Because you can never make up for lost time!
The first feed a young animal eats has a direct impact on the development of its digestive system, both as regards its efficacy, through developing enzyme activity, and as regards protection, through developing intestinal flora.
1 – The pre-weaning stage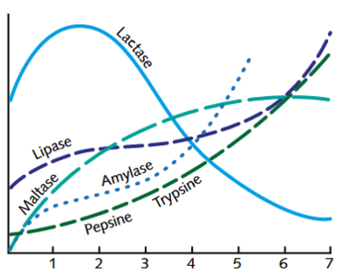 Feeding a piglet prior to weaning is a good way of building up its enzyme array.
Enzymes are not naturally present in the intestines, but will develop during the critical stage from 3 to 4 weeks old.
Special feature of ARC:
- Offering creep feed with formulas developed by farmers, for farmers, validated in numerous farm tests and given along with sow's milk.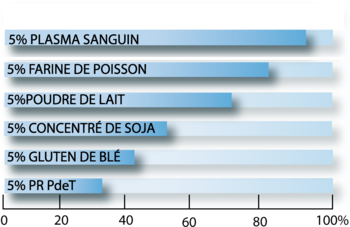 Enthusiastic intake of feed by young animals is clearly an essential prerequisite.
What sets ARC apart is the effort it invests in making its feed highly palatable, selecting raw materials specifically for this purpose.
Special features of ARC:
- Use of animal proteins – fish meal and blood derivatives – with recognised benefits for feed palatability, for a better Feed Conversion Ratio (FCR) among very young piglets.
- Use of specific by-products from biscuit-making, a key factor in enhancing palatability and providing energy content that can be directly assimilated by the body.
Like you, we consider the nutritional properties of the raw materials used in prestarter or starter formulas to be crucial.
Immediately after weaning, our challenge is to provide a highly digestible feed that allows nutrients to be rapidly absorbed. Properly nourished, the intestinal villi (and therefore the intestinal wall) will be protected.
With this in mind, we select ingredients (particularly as regards to the protein sources we use) that are technically optimised (hydrolysed proteins and nucleotides) for enhanced bioavailability and safety.
- Varied sources of hydrolysed proteins, ensuring maximum bioavailability and balanced amino acid intake!
4 – Secure digestion - Nourishing and protecting native flora and inhibiting pathogens
Promoting native flora is facilitated by choosing diverse, quality prebiotic sources. Safety is further improved by using natural ingredients to inhibit pathogens.
To achieve these goals, ARC has chosen premium-quality raw materials and a blend of several additional ingredients to prepare its DIETO range.
Special feature of ARC:
- The DIETO range is formulated specifically to ensure safe digestion.
5 – Benefits for the immune system
Piglets have very little protection against different pathogens when they are born. Their mother's colostrum is their first shield: it plays a vital role in triggering their immune system defences.
Their immune defences then continue developing until they reach maturity at 8 weeks old.
At the weaning stage, the natural defence system of piglets is still not fully fledged!
Different pieces of research have similarly shown that by reducing inflammatory processes in piglets, their metabolism can focus more on growth and, as a result, performance. Modulation of the inflammatory process is a key factor.
Special feature of ARC:
- The STIMULO range is enriched with blood plasma, helping to strengthen your piglets' immune systems and reduce inflammatory processes!
Our products also contain essential oils that modulate the inflammatory response.
6 - Solutions for moving towards demedication
The weaning stage is critical for piglets. They therefore require very effective protection against attack from external agents.
Here are some additional tools to help make weaning successful!
Enhanced "Secure digestion":
- Live yeast: for controlling intestinal flora, protecting against pathogenic flora, and stimulating the immune system
- Green Powder: prevention of diarrhoea, enhanced intestinal health, higher feed gain ratio
Enhanced "Booster":
- Fitonol: improved performance, better feed intake, control of balanced intestinal flora
Special feature of ARC:
- "À la carte" service: Choose the additives which meet the needs of your livestock!